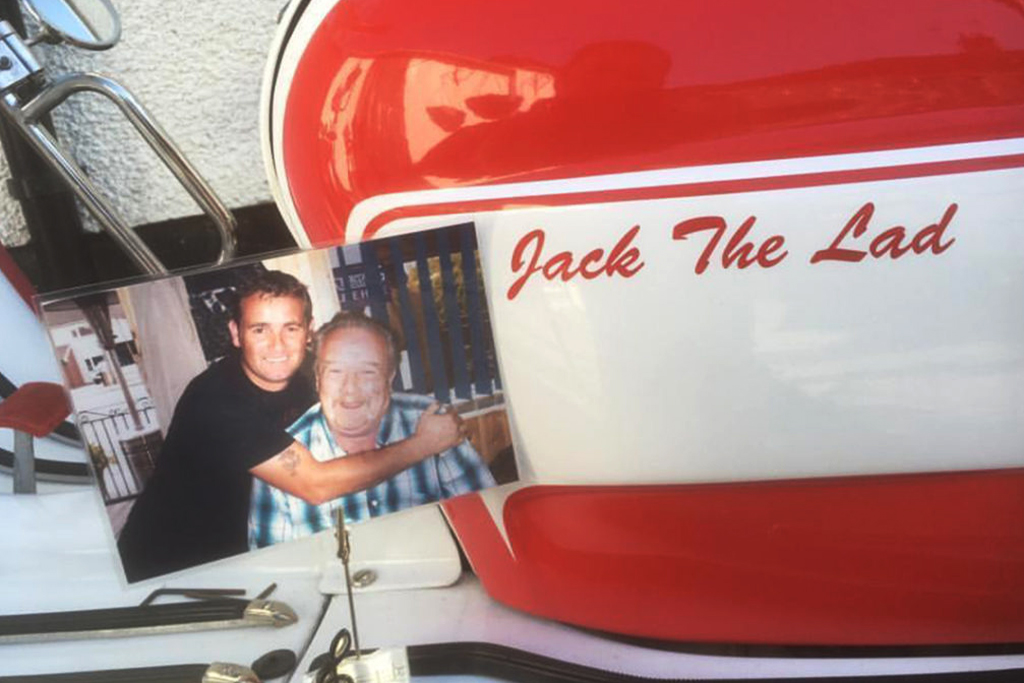 Jack The Lad è stato costruito da Gareth Jones di Rhyl, nel Galles del Nord, come tributo a suo padre scomparso improvvisamente nel gennaio 2017.
Gareth has always been an avid fan of Lambrettas and Vespas and restore a few in his youth. 95 / 5,000 ผลลัพธ์การแปล Gareth è sempre stato un appassionato fan di Lambrette e Vespa e in gioventù ne ha restaurate alcune. Per anni ha sognato di possedere nuovamente la sua Lambretta per restaurarla e ritoccarla. Dopo aver acquistato la Lambretta, ha giocato con idee di restauro e creatività. Questo è stato sospeso quando la famiglia è stata colpita dalla notizia della morte improvvisa e tragica di suo padre.
Suo padre ha sempre sostenuto il suo amore per scooter, auto e bici. Poi è diventato ovvio chi dovrebbe essere la musa ispiratrice di Gareth. Jack The Lad era uno dei molti soprannomi di suo padre e il preferito di Gareth. Ha lavorato giorno e notte perfezionando il design della sua Lambretta e l'ha portata nel luogo di riposo per sfoggiarla una volta terminata.
Victoria, la figlia di Gareth, dice: "Il nonno sarebbe così orgoglioso di ciò che mio padre ha realizzato. È un uomo che lavora sodo, altruista, divertente e premuroso. Il suo duro lavoro merita di essere riconosciuto."