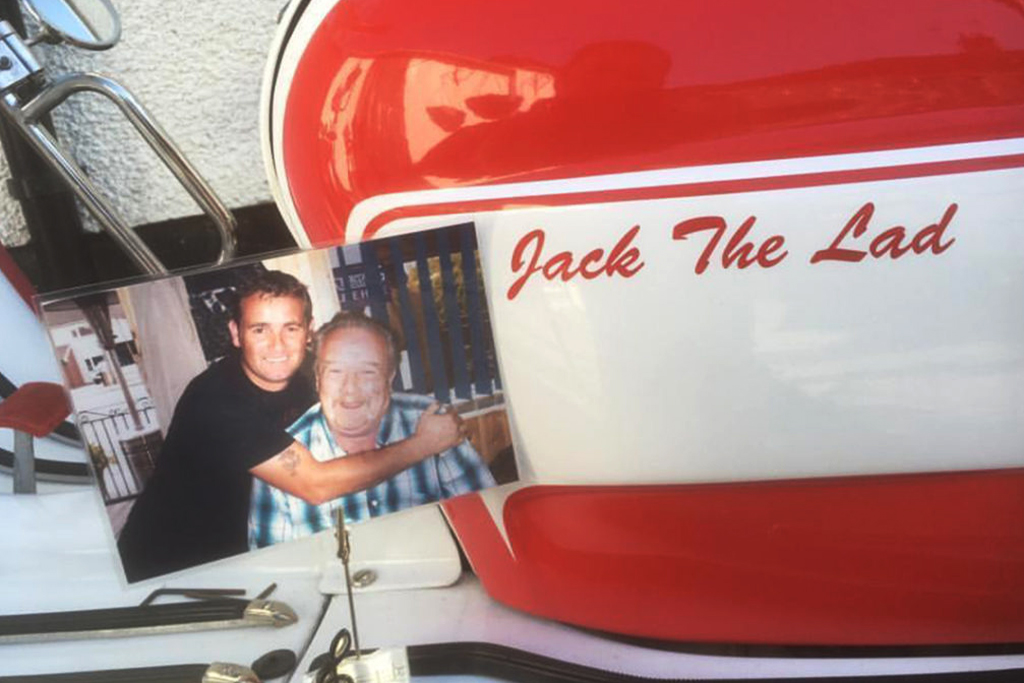 Jack The Lad wurde von Gareth Jones aus Rhyl, Nordwales, als Hommage an seinen im Januar 2017 plötzlich verstorbenen Vater gebaut.
Gareth war schon immer ein begeisterter Fan von Lambretta und Vespa und hat in seiner Jugend einige restauriert. Jahrelang träumte er davon, seine eigene Lambretta wieder zu besitzen, um sie zu restaurieren und zu überarbeiten. Nach dem Kauf der Lambretta spielte er mit Restaurierung und Kreativität. Dies wurde auf Eis gelegt, als die Familie von der Nachricht über den plötzlichen und tragischen Tod seines Vaters getroffen wurde.
Sein Vater unterstützte immer seine Liebe zu Rollern, Autos und Fahrrädern. Dann wurde klar, wer Gareths Muse sein sollte. Jack The Lad war einer der vielen Spitznamen seines Vaters und Gareths Liebling. Er arbeitete Tag und Nacht daran, das Design seiner Lambretta zu perfektionieren, und brachte sie zum Ruheplatz, um sie zu zeigen, sobald sie fertig war.
Victoria, Gareths Tochter, sagt: "Opa wäre so stolz auf das, was mein Dad erreicht hat. Er ist so ein hart arbeitender, selbstloser, lustiger und fürsorglicher Mann. His hard work deserves to be recognized."